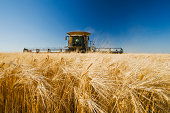 Happy August and Harvest time!  Back home in the Palouse Country it was an early harvest with the hot summer and lack of rain.  We are hopeful for a good yield from our fields…..and of course some rain!
I thought a little story is in order since I see a few competitors popping up.  I used to make beer back in the 80's.  Yes, me…with a friend.  We used to brew our own along with many of our friends in Eugene, Oregon.   We usually made biscuits and bread from the spent grain to accompany the mussels and crawdads we harvested from the coast to make curry and sometimes I would make dog treats!! So, while there are now recipes on the wonderful web for dog treats from spent grain that people are grabbing to make their own, Bootleg Biscuits has its roots in home-baking and brew-making from over 25 years ago!
So, make no haste if you want the 'original' Bootleg Biscuit with our roots in farming, beer-making and the love of dogs.  We support local animal shelters and our wounded warriors canine assist organizations.
#begginforanotherround